If you want to ensure the safety and security of businesses, property and staff, you must have a reliable surveillance system in your place. Surveillance systems act as deterrents and prevent untoward incidents that cause damage or loss of life, limb, and property.
A sound surveillance system's main components comprise video surveillance, security cameras and a CCTV cabinet. Ask a CCTV cabinet manufacturer, and they will tell you its significance. Modern CCTV cabinets are a sophisticated system, holding seven key components that operate the surveillance system.
Patch Panel
Gigabit Switch
Video Encoder
NVT
POE Switch
Server
UPS
CCTV cabinets manufacturers fabricate wall-mounted and self-standing units, ideal for organising DVR-NVR equipment. The CCTV cabinets are secure with a locking facility and vents to keep the equipment from heating.
There are several surveillance systems in the market; wondering which is suitable for your commercial building? We have outlined the advantages of the most common variants in the market so that you can find the perfect solution to address security concerns in your commercial space.
Dome CCTV Cameras
The dome CCTV camera has an unassuming design that fits into any setting. It is well-suited for both inside buildings and outside. The dome-shaped shell cleverly conceals the direction the camera is pointing, deceiving potential mischief-makers, shop-lifters and burglars. Its 360° rotation gives better coverage.
Dome-shaped CCTV cameras allow wider-angle surveillance and are best suited for casinos, restaurants, hotels and shops.
Bullet CCTV Cameras
The bullet CCTV cameras are effective in covering long-distance footage. They have a durable casing that protects them from water and grime and makes them perfect for monitoring the outdoors. They are pretty conspicuous hence act as a deterrent to vandals and thieves. The cameras are primarily used in large areas outdoors, such as farms, manufacturing units and massive estates.
C-Mount CCTV Cameras
The C-Mount CCTV cameras are voluminous and not at all discreet. Their bulk is advantageous as it is so easily visible, and this keeps criminals away. Since it is robust, waterproof, and built to withstand cold conditions, it is excellent for outdoors. It comes fitted with detachable lenses that are interchangeable and can be used for surveying different distances. The camera is suitable for monitoring long stretches of road leading to the property.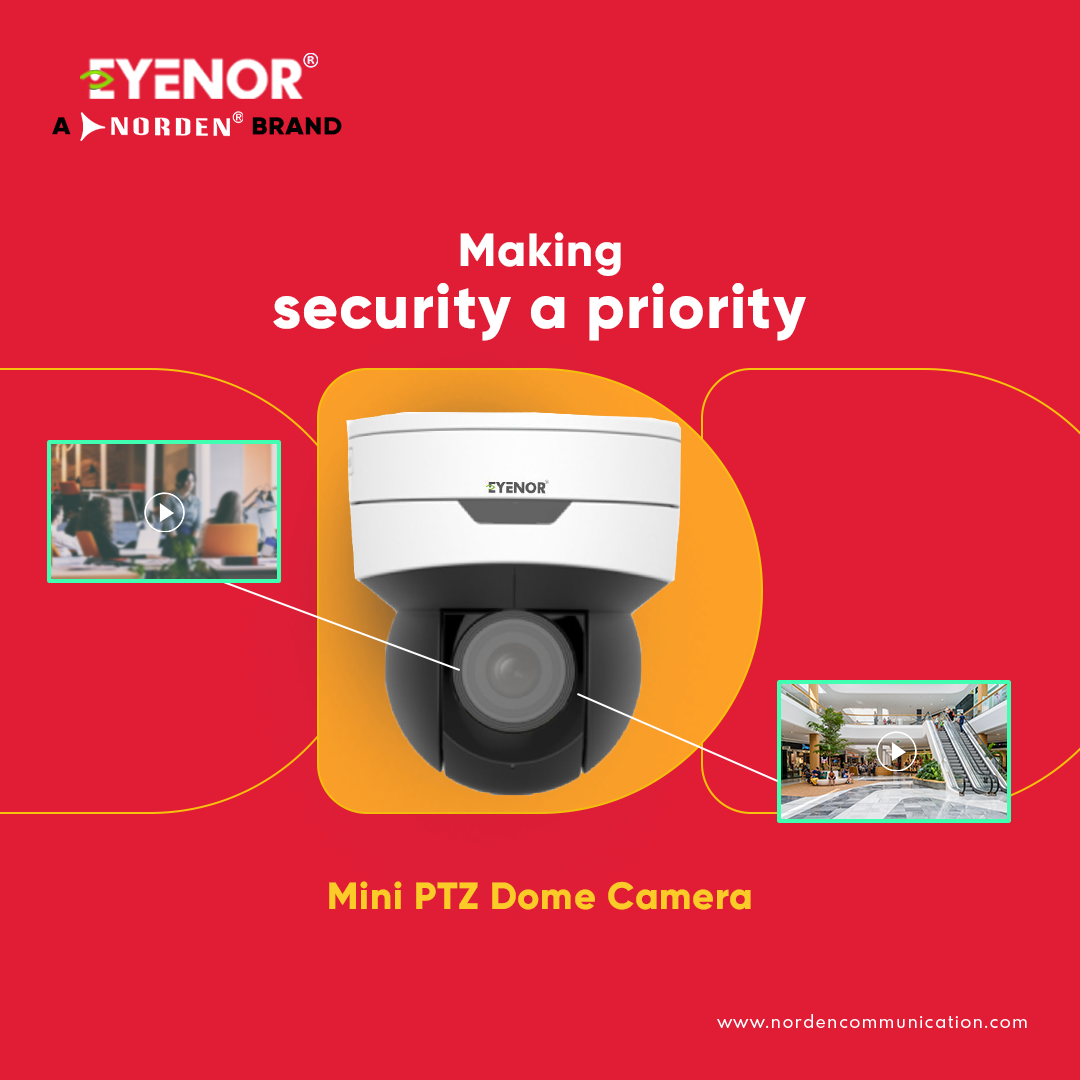 PTZ Pan Tilt & Zoom Cameras
PTZ stands for pan, tilt and zoom. The PTZ camera is highly sophisticated. It can be controlled manually, with a click of a button. The security crew operating the surveillance system can remotely control the camera lens and pan it in any direction—left, right, up or down and even zoom in and out, thereby allowing them to react to situations as they happen. The camera is suggested for live feed monitoring.
The optical zoom lens is the camera's key feature, and it can focus up-close on subjects. The image resolution is high-quality and captures the facial features. The pan and tilt feature has a 360° line of sight.
These units are used in large commercial environments, such as art galleries and museums, which house items of great value. It is possible to program PTZ CCTV cameras to pan on specific points when movement is detected. A single PTZ camera can do the work of several fixed cameras.
Day/Night CCTV Cameras
These cameras are designed to function efficiently, irrespective of the lighting conditions, in the place being monitored. They are fitted with extra sensitive imaging chips that make it possible for them to record sharp video grabs, regardless of whether it is day or night. They work well under different conditions, such as direct sunlight, poor lighting, glare and reflections. They can record in colour as well as in black and white.
Infrared/Night Vision CCTV Cameras
The USP of the night vision CCTV cameras is the infrared technology that enables them to function even in pitch darkness. The infrared feature pushes up these cameras' price, making them pricier than the day/night variant. However, they are worth the extra bucks, especially if the place under surveillance is a high-value property, with valuables, such as banks, jewellery stores and manufacturing units etc.
The infrared cameras work even in unfavourable conditions, like smoke, dust or fog. In the dark, they record black and white imagery and colour videos in daylight.
Network/IP CCTV Cameras
The highly sophisticated camera shares real-time footage across the internet that you can access remotely from any part of the world via smartphones or other computing devices. The bandwidth of the videos is compressed, so the online feed maintains quality. Any archived footage is cached on the NVRs (Network Video Recorders) or a secure software for access later. A network/IP CCTV camera is perfect for businesses that need to be monitored remotely.
Wireless CCTV Cameras
The installation of wireless CCTV cameras is easy and does not take much time. They are neat and uncluttered and a little less noticeable than the rest. And that makes them ideal for places that need to maintain a clean, tidy look—places of worship, art galleries and museums etc. They are like network/IP cameras; they transmit real-time footage over the internet that you can view from anywhere. They also offer secure storage for archived footage.
High Definition (HD) CCTV Cameras
If you want clarity and sharp footage, then the HD CCTV camera is what you want. They deliver resolutions ranging between 720 pixels to 1080 pixels, while the ultra HD cameras have twice the line resolution of the 1080 pixel variant. The price depends mainly on the camera's resolution. However, they all work well, even the 720 pixel HD CCTV camera promises clear, undistorted imagery, and the zoom feature improves clarity. Most variants of CCTV cameras also have an HD model.
HD cameras are suggested in sectors vulnerable to break-ins and theft. HD cameras capture sharp video grabs. Commercial businesses like casinos, banks, jewellery stores, and electronic stores must install them to capture images of everyone who enters the property.
This compiles the list of top security camera systems for your business. Norden Communication, being the global leader in manufacturing and supplying surveillance systems under the brand name EYENOR, is the best pick if you are looking for the best surveillance cameras that suit your requirements and budget.